A mortgage is a financial transaction with the promise to repay a significant debt, complete with official documentation and government regulations. Mortgages come in many varieties and can be complex, so you must work with a lender and realtor you trust. A mortgage can make your dream home a reality, so it's important to understand them. Options exist for low-income loans, luxury dream homes, and everything in between.
If you're looking at Naperville homes for
sale
, you might wonder whether you need a credit report to prequalify, what type of credit score you need, how much home you can afford, whether you need a downpayment, what the current interest rates are, and more. The Dickerson Team assembled the following "truth about mortgages" guidelines to facilitate your real estate journey.
Types of mortgages
There are several mortgage loan types, although most lenders only offer a few types. Each is designed to benefit you differently, so it's important to know what you'll need to make the most informed decision.
Conventional loan
A
conventional
home loan is the most common type of fixed-rate mortgage. Buyers can choose a
15-year or 30-year fixed-rate loan
, which will guarantee that the interest rate does not change over that time. A 30-year loan allows for lower monthly payments due to the length of the loan, while a 15-year loan means you'll pay less interest.
Adjustable-rate mortgage (ARM)
ARM loans are far less common and come with risks because the rate can fluctuate over the loan term. They can deceive borrowers because the percentage rate is usually lower at the start and increases as the market rates change. This can cause increasing payments at a rate some homeowners may not be able to manage.
Department of Veterans Affairs (VA) loan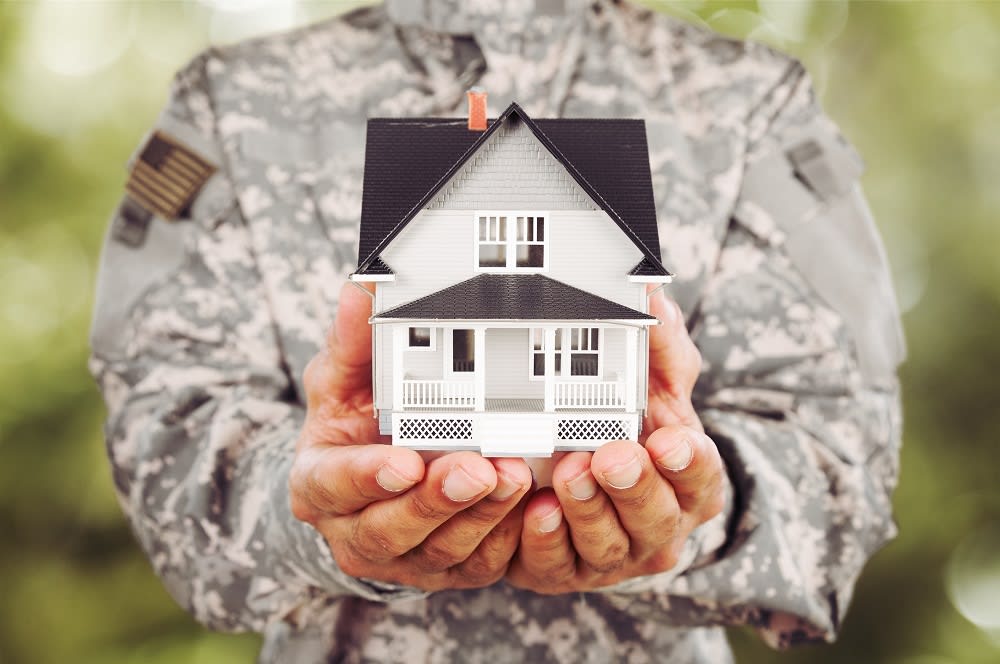 Photo courtesy of Shutterstock
The VA loans specifically benefit service members and their families. While similar to conventional mortgages that various lenders can back, you'll have to meet a minimum service requirement to obtain one. One plus about this loan is you aren't required to make a down payment or hold private mortgage insurance. Though this may sound ideal, there are some negatives to
VA loans
. You'll be required to pay a funding fee to cover the cost of foreclosing (in case of a default). A VA-endorsed appraiser must evaluate the property and deem it worthy of the loan. Additionally, the lack of a down payment can cause a loss on your investment if the market shifts significantly.
Federal Housing Administration (FHA) Loans
FHA loans tend to be popular with first-time home buyers since they require less than the standard minimum 3.5% down payment. They are ideal for low to moderate-income borrowers. However, you will be required to hold private mortgage insurance.
USDA loans
These loans are backed by the Department of Agriculture and help low-income applicants in rural areas. You'll have to meet
specific income requirements
to qualify, and the property must be in an eligible area.
Jumbo loans
When a loan amount exceeds the Federal Housing Finance Agency (FHFA) limits, the buyer must obtain a jumbo loan. Specific requirements are often put forth, such as putting a year's worth of payments in a cash reserve; expect to pay higher processing and handling fees for a jumbo loan.
How to qualify for a mortgage
Photo courtesy of Pexels

It's much easier than people realize to qualify for a mortgage. Though there are plenty of barriers, like a low credit score and no down payment, there is also plenty of financial assistance to help.

Upon applying, an underwriter will review the different qualifications and aspects while considering how credit-worthy you are. They will view the complete financial picture and examine employment history, income, debt-to-income ratio, credit score, and a downpayment. They want to see the full scope of your finances to determine whether you can handle a significant financial obligation like a mortgage.

You can obtain a loan from a bank, mortgage broker, or lender. Banks and lenders are financial institutions, while brokers are similar to private contractors. The benefits of a lender are substantial, and you'll get competitive rates, product options, and more flexible guidelines. If your realtor doesn't already have recommendations for lenders, you can search in your area for them. It's also helpful to ask family and friends for referrals.
Determining the down payment amount
If you don't want a significant loan, then having a healthy down payment will be your best option. In some situations, you'll need anywhere from
20-25%
of the loan price as a downpayment, but that's not always the case. The greater the down payment, the smaller the loan. A higher credit score will also enable you to choose various options, including the choice of an investment property loan with a 15% down payment. If this isn't an option, you'll want to look into the various
programs
that assist with down payments.

Several programs consider your income, the property's location, and homeownership history. Also, remember that some loans don't require a downpayment, so if you qualify for one of these loan types, you won't need to deplete your savings.
Mortgage rates
Several factors cause mortgage rates to fluctuate, including the economy, housing market, federal monetary policies, and your financial health. The lower the rate, the cheaper your loan will be. To get the lowest rate, consider the type of loan that works best for your situation, qualifying factors, market conditions, and the home you're choosing.

It's relatively straightforward: the stronger your financial profile, the cheaper the loan will be. If you find that you don't have a stellar financial profile, take the time to work on your debt-to-income ratio, increase your credit score, and save for a down payment.

Another less common way to lower a mortgage rate is through mortgage points. These are fees a borrower can pay to trim down their interest rate. Each point costs 1% of the total loan and reduces your interest rate by 0.25%. For example, if you're looking at Naperville houses for $300,000 and your loan has a 6% interest rate, one point would cost $3,000 and reduce the rate to 5.75%. You'll find the points on the loan document page and include them in closing costs.

Closing costs vary but are often between 2% and 6% of the total loan amount. These will cover several fees, like an appraisal, mortgage insurance, taxes, title, and other loan-related items.

*Header photo courtesy of Shutterstock